Tilefish Charter Fishing
---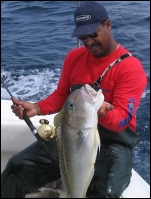 The gold color of a beautiful tilefish is very unique to New Jersey. The east coast of New Jersey has some of the best fishing grounds for deep drop tilefishing in the northeast during the spring months of April and May. Usually a shallow water fish but they burro deep in the ocean to seek shelter. Using our Garmin 3010C chartplotter, radar and color fish finder we can target these fish on a drift for a drop and reel fishing experience.



There is nothing tastier than fresh cook tilefish for dinner. This fish has turned the saying around to "If you love tilefish, then you'll love lobster!"

If you have never tried fishing for tilefish then now is the time and Andrea Toy is the boat. Contact us now to reserve your date or find out if and when we are running any open boats for tilefish.
Copyright © Andreas' Toy Charters. All Rights Reserved Privacy Policy