Shark Fishing
---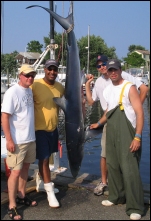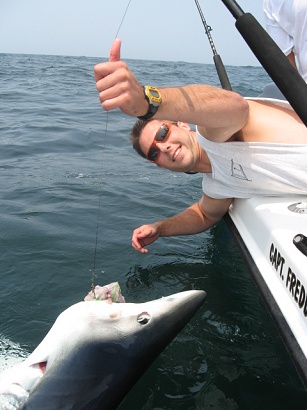 Shark fishing aboard the Andreas' Toy is an experience of a lifetime.

SHARK!!!

Blue sharks, Mako and Thresher sharks are frequent predators in our offshore waters. The best time for shark fishing here is late July through October. Just like the movies we chum the waters to lure them in. Patience, a quiet uneasiness mixed with excitement is what you will experience until you here the dragline from the reel scream. Get ready to work hard as you are strapped in and going toe to fin with one of the most revered predators in the sea. Later with your 4 person party back at the dock, there will be laughing and discussions about the epic battle will be the topic of conversation as your picture is taken next to your catch and you take home some of the freshest shark steaks to enjoy!

Fish all day for shark or contact us about a custom combo trip for your charter. Contact us today to ensure your date is reserved and let the expertise and experience of Capt Fred help you catch that shark you have always dreamed about!
Copyright © Andreas' Toy Charters. All Rights Reserved Privacy Policy