Striped Bass Fishing
---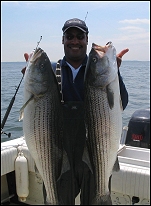 Trophy size and world record size striped bass have been caught right here in New Jersey! Itís true! A 78 lbs 8 oz striper was caught right off the Jersey shore in Atlantic City, NJ.

Striper fishing makes for some of best fishing the New Jersey shore has to offer. Some anglers fishing their whole lifetime trying to catch their trophy size striped bass of 40 lbs or more. For Andreasí Toy Charters catching stripers of 30 lbs or more during the Spring run or having limit catches are pretty common.

Captain Fredís expertise in striped bass fishing in Raritan Bay has even been on TV shows like Delaware Valley Outdoors and the Canadian show Peche en Ligne which you can find highlights to on YouTube.

If you are looking for a charter boat service with a proven track record and great fishing advice then Andreasí Toy Charters is the only charter service you should know. We offer both oceanside and bayside striper fishing experiences. Contact us today to book your striper trip because space is limited.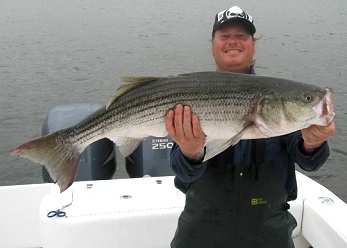 Copyright © Andreas' Toy Charters. All Rights Reserved Privacy Policy