Capt. Fred, Thanks for making my trip with you a great time! Hooking up on a triple header of tuna at the start of our trip was awesome. Your expertise certainly paid off deciding to go to the right canyon to find us the fish. It's obvious you spare no expense taking your charters out for a great experience, "not just a boat ride". I have fished with many different captains in the Gulf in Florida and NJ coast and can say that your personal approach to your charters stands out amongst the very best. Thanks again for a great trip and truly look forward to the next time we can set some hooks out again!

~Mike R.



Fred-
Thanks for the great day. I have been on a lot of boats with a lot of captains, but you are by far the best. I had more fun on your boat than any other charter Iíve been on. Just wish that I could have set a couple of more hooks on those damn Tog. Had a great time none the less!

~Brandon I.



What a great trip! As Freddy promised, we had plenty of extreme fishing! :) Capt. Fred, Capt. Mike and Brett really took care of [the] 3 of us during the trip. What a great crew! It was a great trip. Thank you!

~ Mike G.



Just wanted to thank you again for a Rocking trip. Larry and I couldn't of had a better time fishing in the home state.

Plugging those stripers and blues spoiled me. The tarpon is still the king of my world in Miami but those NJ gangsta's could put the hurt on the snook and reds any day in my typical haunts. It just wont' be the same.

Looking forward to my next trip up, and if I have to go to NY on business in the next month or so, I will definitely find a reason to plug a few more stripa's with the boys. Best.

~ Charles F.
Welcome Aboard!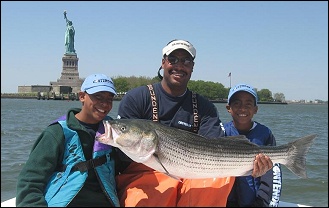 Welcome to Andreas' Toy Charters home of a powerful 31 foot Contender FA.

Sailing out of Clarks Landing Marina in Point Pleasant, NJ. Fishing the inshore and offshore waters from New Jersey to Florida for the past 15+ years Captain Freddy Gamboa is ready to provide you with a safe enjoyable trip that allows anglers, who are die hard or novice fisherman, an opportunity of a lifetime.

Our specialty is allowing our anglers to fish for multiple species on any given day. Some days we may be targeting a Jersey Grand Slam consisting of Striped Bass, Bluefish, Fluke, Weakfish, or experience a combo Tuna Troll/Shark drift in the same day. So give us a call, choose your target species and get ready to enjoy the fishing adventure Andreas' Toy Charters can provide!
Video: Breaking Blackfish
Video by Saltwater Underground with salt water journalist Nick Honachefsky at some of the wrecks in mid-January 2019.
Video: White Marlin & Tuna
White Marlin & Tuna Overnight Fishing Trip to the Canyons in July, 2014 with Capt. Fred Gamboa!
Video: Bluefin Tuna
Bluefin Tuna the Chicken Canyon on July 10th, 2011 with Capt. Fred Gamboa & Capt. Max of the Andrea's Toy Charters. The trip fished two Bluefin Tuna, one 57 inches & another 58 inches!
Video: Overnight Offshore Canyon Tuna, Hammerhead Shark & Tilefish
| | | |
| --- | --- | --- |
| | | |
| | National Fishing Team-Pro Staff | |
| | | |
| | |
| --- | --- |
| United States Coast Guard Licensed Captain | |


NJ Fishing Charters - Fishing Charters NJ
NJ Fishing Charters - Fishing Charters NJ listed on the Saltwater Fishing Directory